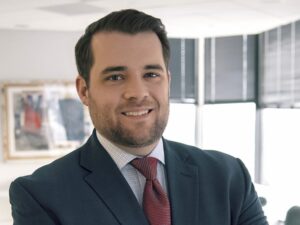 Michael Makarski, External Affairs
Engineers Labor-Employer Cooperative
Michael Makarski is one of the nation's leading external affairs, strategic outreach and communications professionals working today. He brings a wealth of experience across a variety of communications, outreach and public policy disciplines. Currently, he leads External Affairs on behalf of the near 7,200 members of Operating Engineers Local 825 and the nearly 1000 signatory contractors who employ them.
Prior to his current position, Michael previously served at the Senior Director of Public Affairs at MWWPR, one the largest privately own public relations companies in the America's, where he represented a wide portfolio of interests in the tristate area as well as nationally.
His expertise has been bridging the gap between companies, candidates and local community organizations. In addition to direct one-on-one engagement with key stakeholders, Michael is expert at creating multi-faceted community programs – from direct mail, radio commercials, television commercials, internet video, internet advertising, and traditional advertising, to coalition building, event coordination, traditional media relations and third-party mobilization.
A veteran political operative, Makarski has served as a consultant and advisor on races for the United States Senate, Congress, State Senate, Assembly and dozens of local offices. He has also put his experience to the test as a candidate for political office himself. In 2008 he was elected to his local Board of Education as the youngest member ever to serve the community.
Michael earned a Bachelor of Arts Degree in Political Science at the University of Massachusetts Amherst, MA. He was a New Leaders Council Fellow, Front Line Leader Academy Fellow, New Jersey Young Democrats National Committeeman and Executive Board Member, previously sat on the board of directors for the Manhattan Chamber of Commerce. Makarski is also a Reed Award recipient for his political television commercials and direct mail campaigns.