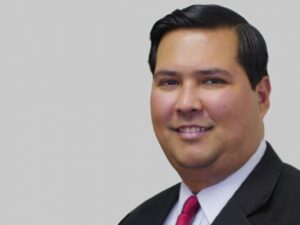 Daniel Ortega, Community Affairs
Engineers Labor-Employer Cooperative (ELEC 825)
Daniel Ortega joined ELEC 825 in October of 2014 and oversees the Community Affairs Outreach. Mr. Ortega's primary responsibility is to assist in developing and maintaining contacts with local governmental entities, agencies, authorities, and other relevant organizations. He actively participates at community meetings such as municipal council/town meetings, public hearings, and Planning/Zoning boards, as well as community organizations such as chambers of commerce, business associations and economic development agencies. Through these efforts, he continues to pursue and promote ELEC's mission to foster an environment that creates economic development and construction in our region which includes the State of New Jersey and five counties in the Hudson Valley in New York: Delaware, Orange, Rockland, Sullivan, and Ulster Counties.
Before joining ELEC 825, Dan served in multiple political and intergovernmental positions with an emphasis in project mobilization, coordination, strategic planning, decision making, problem identification, and resolution within governmental cross sectors.
Since April of 2017, Mr. Ortega has served as Chairman of the Housing Authority of Bergen County. Part of his responsibilities include working with fellow commissioners and the executive director; building consensus towards the best stewardship of scarce public resources to address local housing needs and facilitate the Agency's mission; approve an annual budget of $47,000,000; and establish policies that help meet our goals. HABC manages 3,500 Section 8 Vouchers and a diverse portfolio of buildings for senior citizens, people with special needs, veterans, and multifamily housing amounting to 1,000 units. Mr. Ortega is devoted to the agency's commitment to creating and preserving affordable housing.
Between May of 2006 and September of 2010, Mr. Ortega served as Commissioner of the Hackensack Housing Authority, Commissioner of the Housing Authority of Bergen County, and President of the Housing Development Corporation of Bergen County.
Dan earned his BA in Political Science from William Paterson University in 2006 and an MS in Administrative Science from Fairleigh Dickinson University in 2010. He and his awesome wife are residents of Waldwick, NJ. He is also known for making a mean mac and cheese.